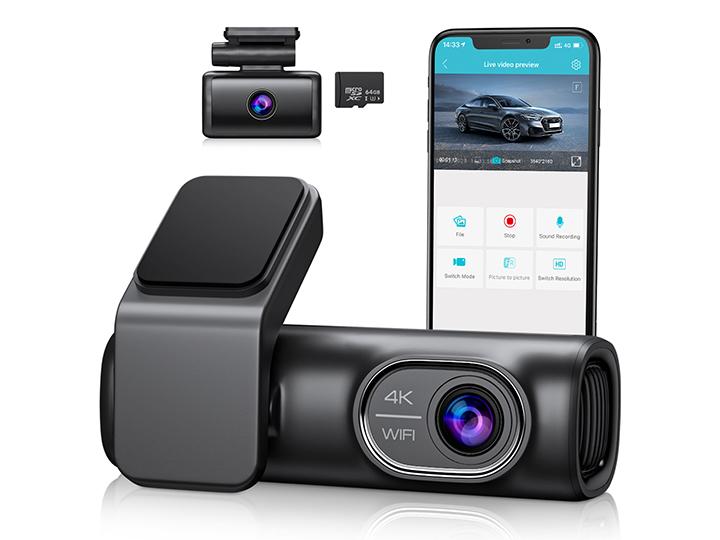 OMBAR Dash Cam Front and Rear 4K/2K/1080P+1080P 5G WiFi GPS, Dash Camera for Cars with Free 64G SD Card
■【4K Ultra HD Dual Dash Cam】:OMBAR Dual Dash Cam can simultaneously record front 4K and rear 1080P resolution videos, clearly capturing license plates and road signs. You can switch to QHD 2K front view and Full HD 1080P rear view for daily video recording. The rear camera can be easily adjusted 360° with a 19ft extension cable, perfect for cars, SUVs, Jeeps, trucks.
■【Automatic and Manual Emergency Video Recording】:This dash cam has a built-in gravity sensor, which can automatically detect sudden vibration or shock, and automatically lock the video as evidence. You can also manually move some of the videos you consider more precious by pressing the lock button.
■【24 Hours Parking Monitoring】:This function will be displayed when connected to the 3-lead hardwire kit. The dash cam has two parking modes, you can choose one of them to monitor your car while it is parked, monitor any incidents and record them automatically while you are away.
■【Built-in WIFI and GPS】:By using the built-in 5.8G Wi-Fi and the app, you can directly and quickly watch the recorded video and download it to your smartphone for instant sharing on social media. The GPS driving recorder accurately records the driving route and speed, and you can view the GPS data of the recorded video in our GPS player. Travel speed and coordinates are displayed below the map frame.
View more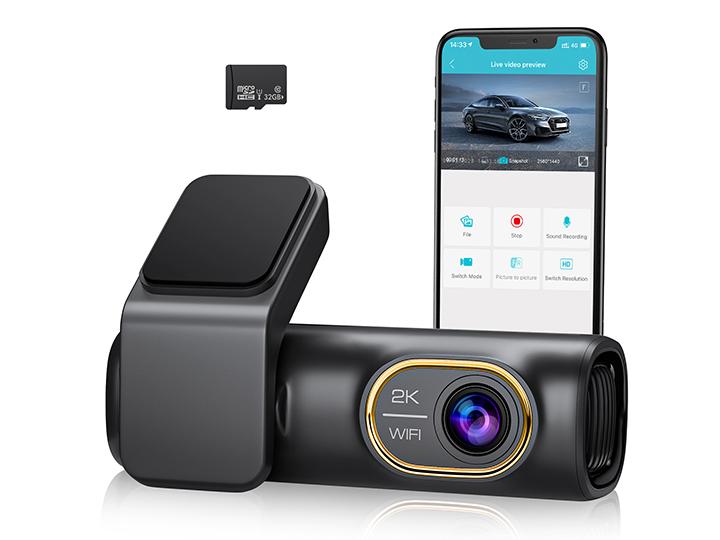 OMBAR Dash Cam 2K Built-in WiFi Car Camera, Dash Camera for Cars with Free 32G SD Card
■【Built-in Super Capacitor】: Powered by a super capacitor, compared with lithium-ion batteries, it can theoretically be charged and discharged hundreds of thousands of times, while traditional lithium-ion batteries can only be charged and discharged hundreds of times.
■【2K 2560x1440P+Infrared Night Vision+150°Wide Angle】: <1> Can record 1440P video, with F/1.8 aperture and WDR (Wide Dynamic Range), clear shooting even at night and other bad weather.
■【Wifi+ App Control】: Equipped with an APP for Android or IOS smartphones, you can change the default settings after connecting via WiFi, and easily get real-time driving pictures, videos, download pictures, edit, etc.
■【Loop Recording & Gravity Sensor】: <1> The package contains a 32GB SD card (up to 128Gb SD card is supported). When the SD card is full, newly recorded videos will overwrite the oldest videos. <2> Built-in G-sensor function, if a collision occurs during driving, the current image and video will be automatically locked to ensure that evidence files are not lost
■【Parking Monitoring】: <1> This function requires an additional Micro USB hardware kit to be purchased. did not include). <2>After installing the hardwire kit, when the vehicle is turned on or started, the driving recorder will automatically turn on and start recording. When you turn on the parking monitoring function on the dash cam, the dash cam will automatically switch to time-lapse recording mode or continuous recording mode. If a collision is detected after parking, it will automatically turn on and record the current video as evidence for accident investigation.
View more
O

MBAR

I

Dash Cam

OMBAR was established in 2010. is a leading global manufacturer of driving recorders, we have expanded our business scope with services such as driving recorders,wireless chargers, and sold our products globally.

View more